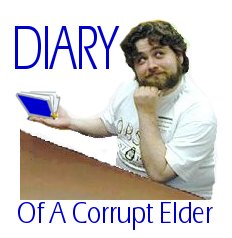 By Colin



Saturday, June 24
------------------
3PM
I had been looking forward to a nice, laid-back weekend alone - you see, the other Elders were all going to Minnesota, and I would enjoy the peace and quiet around the Abbey, not to mention sole access to the blender and the pool floaties (rank hath its privileges, after all).
Little did I know what I was in for.
Below, then, is the journal I have kept during my, um, "experiences" of this weekend. Autumn, Paula, Lens, La.., if you're reading this, do know that I did everything possible to avoid this fate, to say nothing of keeping the Fest-less siblings out of...well, *those* areas of the Abbey. But, well, that's what you get for going off and leaving me in charge. In addition to which, they made me a better offer.
Anyway, I was drugged - but I get ahead of myself...


Friday, June 23
---------------
4:30PM
Ah, bliss! This afternoon, the exodus of the Elders finished, and I had the run of the abbey's wine cellar - er, meditation rooms. So, with Jimi Hendrix blaring from the Law Offices, I decided to have a little fun. It was all quite dignified, of course.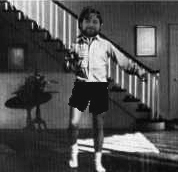 Hidden cameras captured what must be
one of the lowest points in the Abbey's
history
4:45PM
How odd. As "All Along the Watchtower" wrapped up, I could swear I heard the door to Autumn's study open. I checked, but there was no one. Nevertheless, I decided to put my pants back on, just in case. One must maintain a certain decorum in front of the Siblings.
4:46PM
Okay, perhaps "decorum" is a lost cause, at this point.
5:30PM
It's good to be the king. The siblings, particularly that very nice Sister Aderyn, have been plying me with 'ritas for the last 45 minutes. Aderyn's last one was a little strong though...I'm feeling a little woozy...
(Some time later)
oh cra9p. they got me big time.
i'ver beenm tasken prisxoner, and am currently locked in the l.aw ofvfices. i'mm managijnhg to type this onm my laptop dsdespite thje ropes around my wrists, but suuffice it to say, my nosxe is starting to hurt like hgell ./.
8:30PM
Well, I'm finally out of the office, having shimmied through an air duct. The sounds of raucous celebration are coming from somewhere in the vicinity of the hot tub. I'd better see what's going on.
8:33PM
Deah gott, they're in Autumn's study!! Sister Ataraxia is even playing with the Holy Undergarment - oh dear, there go the drycleaning bills. I can't let this go on . . .
8:35PM
damnmit,m ik'm back in the law office again. adertyn's qyuuickier than she looks. stronfger too.



Saturday, June 24
-----------------
11AM
Alright, I'm back out again. Now I must find out exactly what they're up to - as long as they keep out of Room 314.
11:02AM
Crap, they found room 314. Autumn, I tried to keep your double identity a secret - sadly, before I could torch the "After" pic of Autumn, I was chased away by Aderyn. I have to get back in there, if for no other reason than my surgically-enhanced cheekbones need maintenance.
12:05PM
Captured again. This time, however, they have not locked me away. Aderyn and Skull have instead offered me a position on their new Elders council. What nonsense - they won't even give me any responsibilities - I'm just supposed to stand there and look pretty.
12:06PM
Having realized that the old elders won't give me any responsibilities either, I've decided to take Aderyn & Skull up on their offer. They even let me design one of the new rooms we're putting in (though Serin expressed some doubt about whether the mirrors were too expensive - I tried to point out that we were cutting costs with the naugahyde, but some people just won't give you a break.) And so, we have a new Elders Council. I must say, though, I'm not sure about that graphics design person...